Four actuaries in South-East Asia tell us what inspired them to take on this challenging career and what they enjoy about being an actuary.
Chris Lim Shen: Senior Analyst, Singapore
Works for: JLT Re
Why did you decide to become an actuary?
Analytics is becoming increasingly central to the insurance business and insightful analytics advice often forms a cornerstone of successful insurance placement. My first role at JLT Re was a catastrophe analyst, modelling natural catastrophe exposures. I had to understand natural hazard risks, modelling techniques and model sensitivities, as well as insurance market practices. As during my role, I had a keen interest to gain further exposure in risk quantification and be more involved in the business aspects of insurance so becoming an actuary became a natural progression for me.
What do you enjoy in your role?
I work in a small team in a reinsurance broker and the scope of work can be very diverse. Given the backdrop of maturity in the data science field, the increasing sophistication of the insurance industry in Asia, and the shifting insurance regulatory regimes in the region, it is clearly an exciting time to be an actuary. I enjoy making sense of numbers, applying novel ways of solving problems, and the client-facing element as that requires me to put forward analytical advice and recommendations.
What advice would you give to students who are just about to embark on their career as an actuary?
The William Bruce Cameron quote, 'not everything that counts can be counted…" is especially true for actuaries. Actuaries spend a lot of time exploring data, crunching numbers and performing analyses. However, we function best when these are coupled with a broad (qualitative) understanding of their companies, clients and industries. The ability to deliver insightful and well-structured analyses is more important than ever in a world where we have so much data.
E-Lynn Tan: Assistant Manager, Financial Risk Management and Risk Assurance Services, Malaysia
Works for: PricewaterhouseCoopers 
Why did you decide to become an actuary?
I've always had a passion for numbers and the stories that a simple set of figures might be able to tell. Being an actuary gives me an opportunity to have a clearer understanding of different industries and how the various elements within it are interrelated.
What do you enjoy in your role?
In this role, there has never been a dull day as there are various projects that I have been placed on. From these experiences, I have been able to learn a variety of new skills as well as further develop knowledge I already have. Besides that, being able to meet different people, be it clients or even colleagues, is another perk of this job.
What advice would you give to students who are just about to embark on their career as an actuary?
Always stay passionate in this journey you are about to embark on. It will be trying at times and require a lot of hard work, but with passion you will achieve your goal.
Albertus Teddy Setiadi: Director, Business Development Actuary, Singapore
Works for: Reinsurance Group of America (RGA)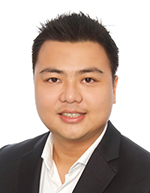 Why did you decide to become an actuary?
My high school teacher, whose wife works as a manager of operations in a life insurance company, introduced me to the profession.
It promised decent pay and an ability to play a central role in managing the insurance industry by combining mathematical / statistical skills with business acumen.
As a young high school graduate who loves mathematics, the idea intrigued me and led me to pursue an actuarial course at university.
What do you enjoy in your role?
I enjoy getting exposure to strategic overviews in running both reinsurance and insurance business. This comes from various sales meetings with both senior internal and external stakeholders. It gives me insight on dynamic challenges in managing and running a successful company. Something I hope will be a handy skill one day in running my very own business.
I personally enjoy developing a positive working relationship with my clients. It gives me positive motivation when I am able to solve their problems and as a result, become their "first-to-go-to" contact. This makes my work feel more meaningful.
I also enjoy the opportunity to apply my technical actuarial skills to creatively deliver innovative solutions for my clients whilst ensuring robust risk management practice. I feel a sense of personal pride when I see this solution being applied and delivering meaningful value to the client, distribution channel and policyholders. Of course, in doing so, I enjoy being supported and working alongside my helpful colleagues from actuarial pricing, product development and underwriting departments.
What advice do you give to students who are just about to embark on their career as an actuary?
Keep your eyes on the end reward and use that as a drive to complete the exams. Personally, the reward that my high school teacher mentioned came true with a lot of other upsides as well, such as a sense of personal pride and satisfaction. I could only wonder what other exciting opportunities the career might bring given the role of 'the actuary' is likely to expand.
Charlotte Man Yin Shan: Senior Executive, Actuarial Pricing, Singapore
Works for: Prudential Assurance Company Singapore
Why did you decide to become an actuary?
During high school, my ambition was to become a doctor or a pharmacist. It was a popular choice among my fellow classmates. When I was studying A Levels in college, I came across this term – Actuarial Science - it was something new. All that we knew about this course was that it involves risk calculation, statistical analytics and probability simulation. I thought it was quite cool and challenging, so I did more research and then I became really interested. So, I embarked on my study of actuarial science at Heriot-Watt University, Scotland. In May 2015, I graduated with a first class honours degree and with eight full exemptions from the IFoA's exams.
What do you enjoy in your role?
I started my career as a fresh graduate in the Prudential Assurance Company Singapore. My main portfolio is group business pricing and I have dealt with all kinds of tailor-made group business quotations. Most of the time, we have to ensure the competitiveness of our pricing, while making sure that it passes the financial requirement set by the Company and also Regulators. What I enjoy most in my role is that I can interact with different stakeholders and learn what part each role plays. As an actuarial graduate, I felt accomplished that we could use our strong numerical sense and fundamental analytical skills to add value to the whole organisation.
What advice would you give to students who are just about to embark on their career as an actuary?
Data science is emerging and the importance of the actuary will also continue to grow in this era as while the robot helps you to do the ground work you will still need expert judgement. So, if you think actuarial science is something for you, do it and don't be afraid! Last but not least, one cannot deny the fact that an actuary can have both a personally rewarding and a well-paid career!
Filter or search events
Events calendar
Dr Catherine Donnelly will present the basics of the structures for pooling longevity risks and summarise recent research results in this area in addition to outlinging future research around this topic.  This is work under a research programme funded by the IFoA's Actuarial Research Centre, called 'Minimizing longevity and investment risk while optimising future pension plans'.

Climate-Related Risk - This free to view webinar on Climate-Related Risk is the first in a series focusing on some of the 'Hotspots' identified in the JFAR Risk Perspective bringing the Risk Perspective to life with practical illustrations and insights from subject experts from the IFoA and other Regulators

Recent decades have seen institutions, such as employers and financial services, give people more choice and flexibility, but these freedoms have come with more responsibilities. Individuals are now responsible for managing more of their own financial risks, from ensuring they put enough money into their pension to securing affordable protection to be financially resilient.

This event is online.

26 April 2021

-

7 May 2021

Join us for this brand new IFoA webinar weries comprising of a fortnight of webinars, panel sessions and a hackathon, that showcase the range of ways in which the actuarial profession has added value, in the public interest, to the understanding and management of the current and future pandemics through insight and learning.

This event is now temporarily closed on Monday 26 April, but the session will be repeated on Tuesday 27 April, 09.00-10.30. Please click here to register your place. 

Actuaries have a lot to offer biodiversity management over the next decade as the world develops more depth to its response to this global challenge. This sessional offers an opportunity to learn about this emergent risk, to contribute to our thinking as a profession and help us develop the next steps forward.

IFoA Immediate Past President John Taylor would like to invite you to the Institute and Faculty of Actuaries' (IFoA) virtual Europe Town Hall, hosted by John Taylor with IFoA Council Members Alan Rae, Jennifer Hartley, Maribel Vasquez Flores and IFoA Chief Executive, Stephen Mann.

Mis-estimation risk is a key element of demographic risk, and past work has focused on mis-estimation risk on a run-off basis.  However, this does not meet the requirements of regulatory regimes like Solvency II, which demands that capital requirements are set through the prism of a finite horizon like one year.  This paper presents a value-at-risk approach to mis-estimation risk suitable for Solvency II work

Available to watch globally in May.

10-12 May 2021

This year's Finance and Investment Virtual Conference takes on the timely theme of 'resilience', something we have all learnt a lot more about in the last year! Our diverse range of talks will explore the theme of resilience in a variety of ways including in building robust investment portfolios, in the incorporation of ESG factors, in govern

This talk will explore the potential benefits that wearable tech can bring to health & protection insurers and their customers. The traditional approach of integrating wearables into insurance has largely focused on measuring steps and using rewards-based incentive programs to encourage more activity.

Join us for this talk with Professor Sir Adrian Smith as part of the 'Dr Patrick Poon Presidential Speaker Series'. Professor Smith joined The Alan Turing Institute as Institute Director and Chief Executive in September 2018. In November 2020, he became President of the Royal Society, in addition to his leadership of the Turing. He is also a member of the government's AI Council, which helps boost AI growth in the UK and promote its adoption and ethical use in businesses and organisations across the country. He received a knighthood in the 2011 New Year Honours list.

 

Available to watch globally in May.

19-21 May 2021

We continue to live in a world of global uncertainty. Survival depends on our ability to simultaneously navigate through the diverse root-causes, ranging from: the consequences of Climate Change; on-going financial consequences of the COVID pandemic; or self-imposed changes in regulatory requirements and accounting standards.

Online webinar series

16-22 June 2021

Welcome to the programme for our 2nd Virtual Pensions Conference. This year's conference features 11 webinars offering members and non-members the opportunity to get up to date content from leading experts in the pension industry. There will also be opportunity to ask questions and contribute to the discussion.