Of special interest within the Archive is a small notebook in the hand of Thomas Bayes (1701-1761)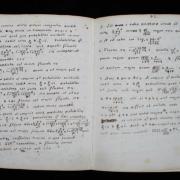 In 1763 Richard Price published 'An essay towards solving a problem in the Doctrine of Chances [by] the late Rev. Bayes, F.R.S., communicated by Mr Price…' in Philosophical Transactions [of the Royal Society] 53, pages 370-418. The essay, which Price claimed to have derived from papers he had found written by his late friend gave, rise to the significant branch of 'Bayesian statistics' though there has been debate about whether Bayes was the originator of the work. The notebook has been the subject of examination and published research and it contains a section on 'probabilitas' (sections 81-82) among other observations on astronomy and other mathematical topics.
As A.I. Dale concludes, 'while this [the notebook] does not prove that "Bayes's Theorem" is the discovery of our reverend friend [Thomas Bayes], it certainly indicates that the result was known to him some time before his death in 1761'.
As original work on probability theory, it is fitting that the notebook joins other leading texts on probability and other component works of 'actuarial analysis' (demographic mortality data and calculations of compound interest) in the actuarial profession's special library collections on actuarial science from the sixteenth century.
Interested readers can refer to papers below:
Holland, J.D. (1962). The Reverend Thomas Bayes FRS (1702-1761). Journal of the Royal Statistical Society, Series A 125: 451-461.
Dale, A.I. (1986). A newly discovered result of Thomas Bayes, Archive for History of Exact Sciences 35: 101-113.
Bellhouse, D.R. (2002). On some recently discovered manuscripts of Thomas Bayes. Historia Mathematica 29: 383-394.
Bellhouse, D.R. (2004). The Reverend Thomas Bayes, FRS: a biography to celebrate the tercentenary of his birth. Statistical Society 19(1): 3-43.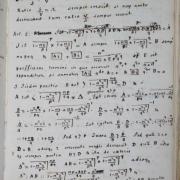 Contact Details
For any library enquiries please contact:
We try to respond to email queries within one working day. Researcher access to historical resources may require notice in advance of visit in order to retrieve items from storage.
Filter or search events
Events calendar
The purpose of this research paper is to explore enterprise risk management lessons which can be learnt from the Covid-19 pandemic in preparation for potential future pandemics as well as other "gray rhino" or "black swan" events. This paper is not intended to be an all-encompassing solution to the issues presented by Covid-19; rather, the content has been provided to help drive discussions regarding how risk management processes may need to evolve in line with the dynamic nature of the underlying risks that they sometimes need to capture.

This webinar will discuss good exam technique, including various approaches candidates can take in managing their time completing their exams in the online format.

This session is for new candidates and existing candidates where we will be discussing the practical steps you need to take leading up your exam and on the day. We will be discussing how to testing the online exam platform, downloading and uploading your paper and key information from the Exam Handbook.

The exam webinar is for candidates, new to IFoA exams and returning candidates, sitting in the September 2022 exam session.

The role of Non-Executive Directors has become increasingly challenging and critical over the past few years.

Big picture thinking, Governance knowledge, Independent mindset, Ambassador potential and Energy and commitment: these are the essential skills sought in a successful NED, according to the Chartered Governance Institute (UK & Ireland).

In parallel, Environmental, Social and Governance (ESG) criteria are increasingly key and used by investors to measure the sustainability and ethical impact of investing in an organisation.

This webinar will cover:

• Some background on the risks of misselling in an ESG context, including the DWS case

• Achieving positive impact is a strong antidote to the risks of greenwashing or ESG misselling, however this risks having a tension with fiduciary responsibilities

• This tension can be resolved with a concept called Universal Ownership

• Under Universal ownership, investors have an appetite to make a loss in order to achieve positive impact, and yet still have no compromise on their fiduciary responsibilities

In the UK, the idea of collective defined contribution (CDC) pension schemes is gaining more attention with the launch of the Royal Mail CDC scheme, the first of its kind in the UK. Our recent research on CDC plans investigates the sources of the putative benefits of CDC schemes: the smoothing of pensions for members.  Using an attribution analysis to burrow into the scheme design, the reason for the smoothing of members' pensions is explained and understood.

The IFoA's Infrastructure Working Party, led by Chris Lewin, will present its new introductory guide to infrastructure investment, which will be published on the IFoA web-site prior to the webinar.   Those readers whose institutions have already taken the plunge into infrastructure will know that it is a highly complex and diverse field of activity.   This guide does not explore all the matters which investors take into account, but it does discuss many of the more important points, including the risks and past returns, benchmarking, and ESG and SDG considerations.    Attendees will be invi

Social care reform has long been on the to-do list for successive governments over the last two decades. In February, the government's proposed reforms to adult social care [including cap on care costs] was published. Against this backdrop of funding promise and rising National Insurance taxation, in this session we will debate the resilience of these new proposals, the impact of future demand for care services and what role for the insurance industry and the important role it has played in long-term care funding in other countries where public-private partnership works.

Health contributes to happiness at the personal, family, community and societal level.  Health, importantly underpins all our economic security. This talk will explore the drivers of our health, the measurement of health and the steps we can take to improve health – most of which lie outside the NHS.

ACC Liverpool

21 November 2022

-

23 November 2022

We are delighted to announce the return of GIRO as an in-person conference, giving you an opportunity to connect with actuaries in your practice area. Join leading experts to discuss key issues, emerging ideas, and new research across the General Insurance sector.

ACC Liverpool Kings Dock Liverpool Waterfront Liverpool Merseyside L3 4FP

23 November 2022

-

25 November 2022

Life Conference returns as an in-person conference in 2022, giving you an opportunity to connect with your peers and fellow actuaries in your sector, in person. You will also hear leading experts discuss key issues, emerging ideas, and new research across the Life insurance sector.

Mortality and morbidity risk varies by variables such as age, sex and smoking. In traditional actuarial experience analysis, these variables, and certain combinations thereof can be explored. However, with the wealth of data now available it is becoming increasingly challenging to identify the key drivers of experience and account for the interaction between different variables. A univariate approach often compares apples and pears, for example males are more likely to smoke and have larger policies than females. Likewise, variable interactions are missed unless specifically included.