Can compulsory liability insurance reduce environmental risk?

In the past, with China's extraordinary economic growth, some man-made pollution problems appeared in the face of the nation. For example, some private chemical enterprises which only pursued profits did not care about environmental protection and caused some environmental pollution incidents that aroused social concern.
The Chinese Government is alert to this issue and over the past five years has devoted significant energy and resource to ecological conservation. The nation has become more purposeful and active in pursuing green development and there has been a clear shift away from the tendency to neglect ecological and environmental protection. Whilst more needs to be done to resolve China's water pollution problem, efforts to conserve resources have seen some encouraging progress, for example: the intensity of energy and resource consumption has reduced; major ecological conservation and restoration projects mean forest coverage has increased; and ecological and environmental governance has been significantly strengthened. China has become an important participant and contributor in the global endeavour for 'ecological civilization' that ensures harmony between humans and nature.
Case study by Mr Xiaoxuan (Sherwin) Li, FIA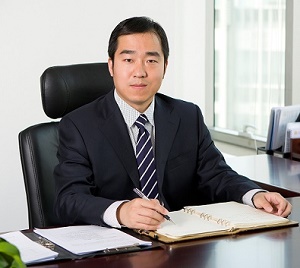 Environmental risk analysis is a frontier topic in the field of green finance, which is also the core issue of the G20 Green Finance Study Group (GFSG). The quantitative analysis of environmental risk and its pricing strategy are very important problems in the process of building an effective and sustainable green financial system.
The China Society for Finance and Banking is a member of the G20 Green Finance Study Group and it is promoting a 'greening' of the financial system by financing for sustainable growth and development. The Insurance Society of China is also focusing on the promotion of sustainable development and green insurance. At the beginning of 2017, these two organisations came together to undertake a quantitative analysis of environmental risk for the finance and insurance industry in China. In the project, the quantitative analysis of environmental risk for the insurance industry was led by the appointed actuary of China Re, Mr.Xiaoxuan (Sherwin) Li, FIA, and his actuarial team.
The project's initial findings are that the externality of environmental risk is being borne by society, rather than the industries which cause and reap the financial rewards from behaviours that increase environmental risk. In other words the companies that are causing environmental pollution though their businesses practices are profiting because they do not have to internalise these costs themselves – instead the Chinese Government is having to raise revenue to clean up the environment in China. 
In the project, actuaries involved are using actuarial methodologies and catastrophe modelling methodologies to evaluate environmental risk. The ultimate aim is that this will lead to businesses having to internalise the cost of any environmental pollution caused by their operations. The models used by actuaries means they are able to measure an entity's environmental risk and place a cost on that risk, depending on the potential probabilities and severities of environmental risk caused by the entity. This cost would then be recouped from entities via an insurance premium based on its behaviour related to taking environmental risk. This mechanism ensures that the costs of environmental pollution fall on the entity causing / benefitting from the pollution, rather than the society.
In June 2017, the Ministry of Environmental Protection of China and China Insurance Regulatory Commission released the exposure draft of the administrative measures for compulsory liability insurance of environmental pollution. With this mechanism, China hopes that its society and economy will continue on the path towards healthy and sustainable development.
Filter or search events
Events calendar
The purpose of this research paper is to explore enterprise risk management lessons which can be learnt from the Covid-19 pandemic in preparation for potential future pandemics as well as other "gray rhino" or "black swan" events. This paper is not intended to be an all-encompassing solution to the issues presented by Covid-19; rather, the content has been provided to help drive discussions regarding how risk management processes may need to evolve in line with the dynamic nature of the underlying risks that they sometimes need to capture.

This webinar will discuss good exam technique, including various approaches candidates can take in managing their time completing their exams in the online format.

This session is for new candidates and existing candidates where we will be discussing the practical steps you need to take leading up your exam and on the day. We will be discussing how to testing the online exam platform, downloading and uploading your paper and key information from the Exam Handbook.

The exam webinar is for candidates, new to IFoA exams and returning candidates, sitting in the September 2022 exam session.

The role of Non-Executive Directors has become increasingly challenging and critical over the past few years.

Big picture thinking, Governance knowledge, Independent mindset, Ambassador potential and Energy and commitment: these are the essential skills sought in a successful NED, according to the Chartered Governance Institute (UK & Ireland).

In parallel, Environmental, Social and Governance (ESG) criteria are increasingly key and used by investors to measure the sustainability and ethical impact of investing in an organisation.

This webinar will cover:

• Some background on the risks of misselling in an ESG context, including the DWS case

• Achieving positive impact is a strong antidote to the risks of greenwashing or ESG misselling, however this risks having a tension with fiduciary responsibilities

• This tension can be resolved with a concept called Universal Ownership

• Under Universal ownership, investors have an appetite to make a loss in order to achieve positive impact, and yet still have no compromise on their fiduciary responsibilities

In the UK, the idea of collective defined contribution (CDC) pension schemes is gaining more attention with the launch of the Royal Mail CDC scheme, the first of its kind in the UK. Our recent research on CDC plans investigates the sources of the putative benefits of CDC schemes: the smoothing of pensions for members.  Using an attribution analysis to burrow into the scheme design, the reason for the smoothing of members' pensions is explained and understood.

The IFoA's Infrastructure Working Party, led by Chris Lewin, will present its new introductory guide to infrastructure investment, which will be published on the IFoA web-site prior to the webinar.   Those readers whose institutions have already taken the plunge into infrastructure will know that it is a highly complex and diverse field of activity.   This guide does not explore all the matters which investors take into account, but it does discuss many of the more important points, including the risks and past returns, benchmarking, and ESG and SDG considerations.    Attendees will be invi

Social care reform has long been on the to-do list for successive governments over the last two decades. In February, the government's proposed reforms to adult social care [including cap on care costs] was published. Against this backdrop of funding promise and rising National Insurance taxation, in this session we will debate the resilience of these new proposals, the impact of future demand for care services and what role for the insurance industry and the important role it has played in long-term care funding in other countries where public-private partnership works.

Health contributes to happiness at the personal, family, community and societal level.  Health, importantly underpins all our economic security. This talk will explore the drivers of our health, the measurement of health and the steps we can take to improve health – most of which lie outside the NHS.

ACC Liverpool

21 November 2022

-

23 November 2022

We are delighted to announce the return of GIRO as an in-person conference, giving you an opportunity to connect with actuaries in your practice area. Join leading experts to discuss key issues, emerging ideas, and new research across the General Insurance sector.

ACC Liverpool Kings Dock Liverpool Waterfront Liverpool Merseyside L3 4FP

23 November 2022

-

25 November 2022

Life Conference returns as an in-person conference in 2022, giving you an opportunity to connect with your peers and fellow actuaries in your sector, in person. You will also hear leading experts discuss key issues, emerging ideas, and new research across the Life insurance sector.

Mortality and morbidity risk varies by variables such as age, sex and smoking. In traditional actuarial experience analysis, these variables, and certain combinations thereof can be explored. However, with the wealth of data now available it is becoming increasingly challenging to identify the key drivers of experience and account for the interaction between different variables. A univariate approach often compares apples and pears, for example males are more likely to smoke and have larger policies than females. Likewise, variable interactions are missed unless specifically included.