Patrick Lee has served both on the IFoA Council and IFoA Management Board, and is President of the Wessex Actuarial Society. Opinions expressed here are his own.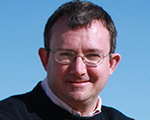 You've said that you believe there is much to do to ensure that IFoA members remain relevant in a world ever more dominated by data analytics and Artificial Intelligence (AI). Could you briefly explain why actuaries would do well to increase their understanding of these technologies?
Estimates vary, but in 2018 around a trillion megabytes of data was produced every day.  Some of this data will be very valuable, and so businesses and organisations will compete to extract value from it. The actuary's traditional toolkit, however, has not enabled understanding of how large-volume data of very different types (such as social media) can be processed for actuarial purposes. So at a bare minimum, actuaries need to know the key concepts of data science.
Actuaries also must understand – and add value in – the ongoing conversations that business leaders will have with data engineers and data scientists.
You recently completed Microsoft Professional Programs for Data Science and for Big Data. What impact on their professional schedule can actuaries who are interested in these certifications expect them to have on their professional schedules?
Well, it took me 468 hours of part-time study over two years to complete both programs. The Big Data course took less time – 146 hours as compared to 322 for Data Science – because some courses were shorter, and I'd already taken three out of 10 courses on the Data Science program. I expect to complete the AI programme in July 2019 after about 150 hours study (I'd already taken 2 out of 10 courses on the other programmes).
So, that is an average of just over five hours study per week: a lot more than the IFoA's minimum CPD requirements, but probably less than most actuarial students are used to! My experience is with the Microsoft courses, but alternatives are available. Some providers offer shorter courses which may be less comprehensive. There are also very different courses – e.g., on Google's technology, including its TensorFlow open source software library which is highly regarded.
Do actuaries typically face any particular challenges with regard to gaining certifications in data science, in your view?
Actually, I think actuaries should have somewhat of a head start because they will already be familiar with material in the early courses on mathematics and statistics. Most actuaries should find studying via MOOCs refreshing, compared to their previous studies for actuarial exams. The exams are open book and so are not a memory test.  They should note, though, that some exams are timed, and there is, of course, an honour code. If you have taken comprehensive notes and completed the exercises during the courses, then there should be no problem.
What opportunities for career progression do you see for actuaries who add a knowledge of data science to their professional competencies?
It's very hard to predict future opportunities. Google and parent company Alphabet claim that the impact on society from AI will be even greater than previous waves of transformation – including the internet. I'm convinced that to prosper, actuaries need to embrace the new technologies. They will be able to add most value by synthesising: combining a good understanding of big data with their financial and business insights, and their communication skills to help multidisciplinary teams get maximum value from data.
As I said earlier, being able to talk credibly about Big Data with business leaders will become an essential skill to command influence at board level. Also, greater opportunities will arise for actuaries to work alongside data scientists and data engineers, as organisations set up data analytics departments to enhance competitive advantage. 
Your career experience includes the areas of pensions and investment practice. Are there specific areas of actuarial practice where data science will find greater application?
To prosper, businesses – and that includes industrial ones – will need to add significant software and analytics capabilities. The avalanche of data that will need to be analysed offers unprecedented opportunities for actuaries to move into wider range of fields. According to AI expert Bernard Marr, there are three key AI use-cases for businesses: first, change the way they understand and interact with customers; second, offer more intelligent products and services; and third, improve and automate business processes.
These use-cases require the efficient collection and analysis of data, along with problem solving, cost benefit analysis and deciding whether an effect is genuine or merely accidental or random. So, in short, opportunities galore for actuaries!
Filter or search events
Events calendar
This webinar is intended to raise awareness of the shifting landscape of climate liability risk and what it means for actuaries, including how it impacts on their professional and legal duties. Presentations will cover the legal risks around climate change for investment consultants and actuaries advising DB pension schemes as well as consideration of climate risk for insurers.

Climate change risks are likely to become material for many risk management and investment decisions. This will require to incorporate explicitly climate change in the tools used for risk management and investment decisions. At present existing climate change tools are often too crude for decision making.

Webinar Series

15 July 2020

-

3 August 2020

CILA is one of the pre-eminent events in the annual 'Life' calendar. Due to COVID-19 we are running the programme as a series of webinars covering topics aimed at practicing life actuaries from life offices, consulting firms and other employers of actuaries and those who work in or advise on, the life assurance market in the UK and Europe.

Current Issues in Life Assurance

For annuity writers, a key challenge is the need to fund capital-consumptive new business strain (NBS) as a consequence of writing the business intended to fund future distributions.

Reinsurance, investment strategy and capital provision all have roles to play. Here, we:

Current Issues in Life Assurance

Mortality in 2020 is now dominated by one thing, although – in our future-focused world – the pandemic is just one of many mortality considerations.  In this session, three well-regarded mortality/longevity specialists provide an overview of:

Because of Covid-19, forecasters predict a severe recession in 2020, followed by a V or U-shaped recovery. This impacts both individuals and companies. However, compared to previous recessions, the impact on banks of higher credit losses should be mitigated to some extent by government actions. 

Part of the Protection, Health and Care Conference 2020 webinar series

This session will provide an overview of the Population Health Management Working Party's research including defining impactability and impactability modelling, discussing some examples of specific modelling approaches, considering the practical challenges across the NHS as well as wider public perception and ethical issues.

Many actuaries consider career opportunities in the Finance and Investment practice area after having started off in more traditional actuarial roles such as valuations, capital management or pricing. This session is aimed at helping actuaries to better understand roles in Finance and Investment and how they can fine tune their skills to pursue such careers.

Webinar Series

22 July 2020

-

10 August 2020

Due to COVID-19, we are running this programme via a series of webinars commencing 22nd July.

This webinar series will provide topical and practical updates and discussion on the latest thinking and innovations in mortality and longevity, and is designed to be very accessible to a broad range of experience.

 

Insurers are making increasing use of medical research to help with assumption, models and underwriting

Members of the Mortality Working Group of the IAA have analysed changes in mortality for about 30 causes of death  and will discuss the following:

Predictive risk assessment and risk stratification models based on postcode-level consumer classification are widely used for life insurance underwriting. However, these are socio-economic models not directly related to health information. Similar to precision medicine, precision life insurance should aim to tailor policy pricing/reserving to the individual health characteristics of each client.

The aim of this webinar is to provide an overview of research undertaken within the Data Science Working Party on applying machine learning methods for sentiment analysis and opinion mining of UK Twitter data relating to COVID-19.

As insurers look towards their internal model calibration process for 2020 final year financials and statutory returns, actuaries need to deal with the complexity of adequately modelling their business in 2020 and beyond. This discussion will look at what poor model selection and calibration could look like – using inappropriate historical data; using incorrect 2020 mortality data; inappropriate stochastic model recalibration (or lack thereof). What about being prudent vs setting a best estimate? How do you allow for tail risks during a tail risk event?  This is the fourth webinar in the Extreme Mortality Events series presented by Chair of the Life Board of the Institute and Faculty of Actuaries, Colin Dutkiewicz. 

This webinar has been re-scheduled from its original date of the 1st July. Although ESG has many buyers across the asset allocation community, from pension funds to sovereign wealth funds, it still hasn't found its place within the core asset management strategy desks where the money is actually invested. The problem as well as the opportunity is Fixed Income. Plenty of strategies exist for incorporating ESG within Equities, from screening, integration to a combination. ESG has picked up relatively quickly within Equities with rating,indices created using ESG factors. This talk will discuss how we price a quantifiable ESG credit risk premium and make it alpha worthy in a strategy. 

Over the past decades, many countries have exhibited mortality rates approximately following a piecewise linear law. This is visible in the form of steady improvements over multiple years, followed by a rather abrupt trend change, and then again stable improvements according to the new trend.

Part of the Protection, Health and Care Conference 2020 webinar series

With the rising prevalence of dementia, how can we manage this risk effectively and can insurance do more? Matt Singleton, Ageing Lead at Swiss Re, will cover these topics and demonstrate how insurance could help people address their concerns.

Current Issues in Life Assurance

Join us for an exploration session on the use of data science in insurance companies today. 

 

Current Issues in Life Assurance

This talk will look at a range of such techniques (e.g. mass lapse risk transfer, contract boundaries, risk margin relief, non-standard longevity risk transfer) that have been applied or considered by UK and EU insurers, and the pros and cons of each.

 

Current Issues in Life Assurance.

The International Association of Insurance Supervisors announced on 14 November 2019 the adoption of v2.0 of the global Insurance Capital Standard (ICS) which will undergo confidential reporting for 5 years starting from 2020. This session will include specific experiences from Legal and General (L&G) as well as global industry perspectives from EY.

Webinar

3 August 2020

-

4 August 2020

Current Issues in Life Assurance

This session will cover the PRA supervisory statement on financial impacts related to climate change, industry insights into PRA climate risk business plans, examples climate risk strategy setting out key workstreams and activity steps for successful execution, an overview of a climate risk strategy execution timeline and the future.     

Part of the Protection, Health and Care Conference 2020 webinar series

This session will cover how we have challenged conventional approaches to underwriting and risk selection in order to develop an approach that aligns current practices, customer and broader interests with robust risk assessment.

Part of the Protection, Health and Care Conference 2020 webinar series. Using new and unique research and data from the UK, US, Sweden and China, this presentation investigates how consumers use the internet through their insurance journey and analyzes the role culture and generation plays in their online behaviour. We use this research to show the online landscape for insurance sales in the UK and suggest ways to shape new products and effectively engage with the consumer who is buying them.

Chief Medical Officer (CMO) for Gen Re Life/Health Research and Development, Dr John O'Brien, will discuss the impacts of Gene Modification for life/health insurance. 

Our presentation will examine the challenges arising in setting mortality improvement assumptions, exposing known but under-explored vulnerabilities of current practices. 

As an industry, it has been important to be able to look to the future to identify the next quantifiable risk. In this session, I will explore some of the less tangible, but none-the-less concerning risks to future health, such as the health risks associated with exposure to pesticides, ingestion of plastic in the food chain, and the hazards of indoor air pollution through exposure to volatile organic compounds.

The working party will help the industry to update and enhance how potential risk from diabetes and excess mortality is considered, including the need to understand the underwriting implications as treatments improve, and potentially to develop new products that are tailored to those with diabetes.

This event is now fully booked. To join the wait list, please register here.

A Trusted Profession

Part of the Protection, Health and Care Conference 2020 webinar series. Modelling the structure and trends of cancer morbidity risk is important for pricing and reserving in related health insurance fields such as critical illness insurance and care provision. We model the dynamics of cancer incidence over time in different regions in England, using 1981-2016 ONS data. The modelling allows estimation of cancer rates at various age, year, gender and region levels, following a Bayesian setting to account for statistical uncertainty. Our analysis indicates significant regional variation in cancer incidence rates. 

Part of the Protection, Health and Care Conference 2020 webinar series. In this talk we will outline the steps Aviva took in pulling together our first large-scale disclosures on the exposure of our business to climate change published in March 2019; in line with the recommendations of the Taskforce on Climate-related Financial Disclosures. After touching on why insurers have such an important role in climate change, we'll cover a brief "how-to" guide for those who have not yet embarked on thinking about these topics before giving a case study of how the learnings from a TCFD disclosure exercise can be applied to investment portfolios.

Part of the Protection, Health and Care Conference 2020 webinar series. 

The insurance industry currently underwrites customers with diabetes based on a range of factors, medical expertise and various medical studies. The work undertaken by the Diabetes Working Party would help the industry to approach this using current research findings to update and enhance how potential risk from diabetes is considered. This includes the need to understand the underwriting implications as treatments improve, and potentially to develop new products that are tailored to those with diabetes. This webinar will present our latest findings in the management of this important chronic condition which will include research in collaboration with the ARC.