Patrick Lee has served both on the IFoA Council and IFoA Management Board, and is President of the Wessex Actuarial Society. Opinions expressed here are his own.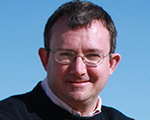 You've said that you believe there is much to do to ensure that IFoA members remain relevant in a world ever more dominated by data analytics and Artificial Intelligence (AI). Could you briefly explain why actuaries would do well to increase their understanding of these technologies?
Estimates vary, but in 2018 around a trillion megabytes of data was produced every day.  Some of this data will be very valuable, and so businesses and organisations will compete to extract value from it. The actuary's traditional toolkit, however, has not enabled understanding of how large-volume data of very different types (such as social media) can be processed for actuarial purposes. So at a bare minimum, actuaries need to know the key concepts of data science.
Actuaries also must understand – and add value in – the ongoing conversations that business leaders will have with data engineers and data scientists.
You recently completed Microsoft Professional Programs for Data Science and for Big Data. What impact on their professional schedule can actuaries who are interested in these certifications expect them to have on their professional schedules?
Well, it took me 468 hours of part-time study over two years to complete both programs. The Big Data course took less time – 146 hours as compared to 322 for Data Science – because some courses were shorter, and I'd already taken three out of 10 courses on the Data Science program. I expect to complete the AI programme in July 2019 after about 150 hours study (I'd already taken 2 out of 10 courses on the other programmes).
So, that is an average of just over five hours study per week: a lot more than the IFoA's minimum CPD requirements, but probably less than most actuarial students are used to! My experience is with the Microsoft courses, but alternatives are available. Some providers offer shorter courses which may be less comprehensive. There are also very different courses – e.g., on Google's technology, including its TensorFlow open source software library which is highly regarded.
Do actuaries typically face any particular challenges with regard to gaining certifications in data science, in your view?
Actually, I think actuaries should have somewhat of a head start because they will already be familiar with material in the early courses on mathematics and statistics. Most actuaries should find studying via MOOCs refreshing, compared to their previous studies for actuarial exams. The exams are open book and so are not a memory test.  They should note, though, that some exams are timed, and there is, of course, an honour code. If you have taken comprehensive notes and completed the exercises during the courses, then there should be no problem.
What opportunities for career progression do you see for actuaries who add a knowledge of data science to their professional competencies?
It's very hard to predict future opportunities. Google and parent company Alphabet claim that the impact on society from AI will be even greater than previous waves of transformation – including the internet. I'm convinced that to prosper, actuaries need to embrace the new technologies. They will be able to add most value by synthesising: combining a good understanding of big data with their financial and business insights, and their communication skills to help multidisciplinary teams get maximum value from data.
As I said earlier, being able to talk credibly about Big Data with business leaders will become an essential skill to command influence at board level. Also, greater opportunities will arise for actuaries to work alongside data scientists and data engineers, as organisations set up data analytics departments to enhance competitive advantage. 
Your career experience includes the areas of pensions and investment practice. Are there specific areas of actuarial practice where data science will find greater application?
To prosper, businesses – and that includes industrial ones – will need to add significant software and analytics capabilities. The avalanche of data that will need to be analysed offers unprecedented opportunities for actuaries to move into wider range of fields. According to AI expert Bernard Marr, there are three key AI use-cases for businesses: first, change the way they understand and interact with customers; second, offer more intelligent products and services; and third, improve and automate business processes.
These use-cases require the efficient collection and analysis of data, along with problem solving, cost benefit analysis and deciding whether an effect is genuine or merely accidental or random. So, in short, opportunities galore for actuaries!
Filter or search events
Events calendar
Wicked Problems, Clumsy Solutions and Leading Change

Dr Catherine Donnelly will present the basics of the structures for pooling longevity risks and summarise recent research results in this area in addition to outlinging future research around this topic.  This is work under a research programme funded by the IFoA's Actuarial Research Centre, called 'Minimizing longevity and investment risk while optimising future pension plans'.

Climate-Related Risk - This free to view webinar on Climate-Related Risk is the first in a series focusing on some of the 'Hotspots' identified in the JFAR Risk Perspective bringing the Risk Perspective to life with practical illustrations and insights from subject experts from the IFoA and other Regulators

Recent decades have seen institutions, such as employers and financial services, give people more choice and flexibility, but these freedoms have come with more responsibilities. Individuals are now responsible for managing more of their own financial risks, from ensuring they put enough money into their pension to securing affordable protection to be financially resilient.

This event is online.

26 April 2021

-

7 May 2021

Join us for this brand new IFoA webinar weries comprising of a fortnight of webinars, panel sessions and a hackathon, that showcase the range of ways in which the actuarial profession has added value, in the public interest, to the understanding and management of the current and future pandemics through insight and learning.

This event is now temporarily closed on Monday 26 April, but the session will be repeated on Tuesday 27 April, 09.00-10.30. Please click here to register your place. 

Actuaries have a lot to offer biodiversity management over the next decade as the world develops more depth to its response to this global challenge. This sessional offers an opportunity to learn about this emergent risk, to contribute to our thinking as a profession and help us develop the next steps forward.

IFoA Immediate Past President John Taylor would like to invite you to the Institute and Faculty of Actuaries' (IFoA) virtual Europe Town Hall, hosted by John Taylor with IFoA Council Members Alan Rae, Jennifer Hartley, Maribel Vasquez Flores and IFoA Chief Executive, Stephen Mann.

Mis-estimation risk is a key element of demographic risk, and past work has focused on mis-estimation risk on a run-off basis.  However, this does not meet the requirements of regulatory regimes like Solvency II, which demands that capital requirements are set through the prism of a finite horizon like one year.  This paper presents a value-at-risk approach to mis-estimation risk suitable for Solvency II work

Available to watch globally in May.

10-12 May 2021

This year's Finance and Investment Virtual Conference takes on the timely theme of 'resilience', something we have all learnt a lot more about in the last year! Our diverse range of talks will explore the theme of resilience in a variety of ways including in building robust investment portfolios, in the incorporation of ESG factors, in govern

This talk will explore the potential benefits that wearable tech can bring to health & protection insurers and their customers. The traditional approach of integrating wearables into insurance has largely focused on measuring steps and using rewards-based incentive programs to encourage more activity.

Join us for this talk with Professor Sir Adrian Smith as part of the 'Dr Patrick Poon Presidential Speaker Series'. Professor Smith joined The Alan Turing Institute as Institute Director and Chief Executive in September 2018. In November 2020, he became President of the Royal Society, in addition to his leadership of the Turing. He is also a member of the government's AI Council, which helps boost AI growth in the UK and promote its adoption and ethical use in businesses and organisations across the country. He received a knighthood in the 2011 New Year Honours list.

 

Available to watch globally in May.

19-21 May 2021

We continue to live in a world of global uncertainty. Survival depends on our ability to simultaneously navigate through the diverse root-causes, ranging from: the consequences of Climate Change; on-going financial consequences of the COVID pandemic; or self-imposed changes in regulatory requirements and accounting standards.

Online webinar series

16-22 June 2021

Welcome to the programme for our 2nd Virtual Pensions Conference. This year's conference features 11 webinars offering members and non-members the opportunity to get up to date content from leading experts in the pension industry. There will also be opportunity to ask questions and contribute to the discussion.