Patrick Lee has served both on the IFoA Council and IFoA Management Board, and is President of the Wessex Actuarial Society. Opinions expressed here are his own.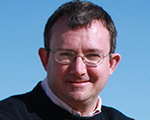 You've said that you believe there is much to do to ensure that IFoA members remain relevant in a world ever more dominated by data analytics and Artificial Intelligence (AI). Could you briefly explain why actuaries would do well to increase their understanding of these technologies?
Estimates vary, but in 2018 around a trillion megabytes of data was produced every day.  Some of this data will be very valuable, and so businesses and organisations will compete to extract value from it. The actuary's traditional toolkit, however, has not enabled understanding of how large-volume data of very different types (such as social media) can be processed for actuarial purposes. So at a bare minimum, actuaries need to know the key concepts of data science.
Actuaries also must understand – and add value in – the ongoing conversations that business leaders will have with data engineers and data scientists.
You recently completed Microsoft Professional Programs for Data Science and for Big Data. What impact on their professional schedule can actuaries who are interested in these certifications expect them to have on their professional schedules?
Well, it took me 468 hours of part-time study over two years to complete both programs. The Big Data course took less time – 146 hours as compared to 322 for Data Science – because some courses were shorter, and I'd already taken three out of 10 courses on the Data Science program. I expect to complete the AI programme in July 2019 after about 150 hours study (I'd already taken 2 out of 10 courses on the other programmes).
So, that is an average of just over five hours study per week: a lot more than the IFoA's minimum CPD requirements, but probably less than most actuarial students are used to! My experience is with the Microsoft courses, but alternatives are available. Some providers offer shorter courses which may be less comprehensive. There are also very different courses – e.g., on Google's technology, including its TensorFlow open source software library which is highly regarded.
Do actuaries typically face any particular challenges with regard to gaining certifications in data science, in your view?
Actually, I think actuaries should have somewhat of a head start because they will already be familiar with material in the early courses on mathematics and statistics. Most actuaries should find studying via MOOCs refreshing, compared to their previous studies for actuarial exams. The exams are open book and so are not a memory test.  They should note, though, that some exams are timed, and there is, of course, an honour code. If you have taken comprehensive notes and completed the exercises during the courses, then there should be no problem.
What opportunities for career progression do you see for actuaries who add a knowledge of data science to their professional competencies?
It's very hard to predict future opportunities. Google and parent company Alphabet claim that the impact on society from AI will be even greater than previous waves of transformation – including the internet. I'm convinced that to prosper, actuaries need to embrace the new technologies. They will be able to add most value by synthesising: combining a good understanding of big data with their financial and business insights, and their communication skills to help multidisciplinary teams get maximum value from data.
As I said earlier, being able to talk credibly about Big Data with business leaders will become an essential skill to command influence at board level. Also, greater opportunities will arise for actuaries to work alongside data scientists and data engineers, as organisations set up data analytics departments to enhance competitive advantage. 
Your career experience includes the areas of pensions and investment practice. Are there specific areas of actuarial practice where data science will find greater application?
To prosper, businesses – and that includes industrial ones – will need to add significant software and analytics capabilities. The avalanche of data that will need to be analysed offers unprecedented opportunities for actuaries to move into wider range of fields. According to AI expert Bernard Marr, there are three key AI use-cases for businesses: first, change the way they understand and interact with customers; second, offer more intelligent products and services; and third, improve and automate business processes.
These use-cases require the efficient collection and analysis of data, along with problem solving, cost benefit analysis and deciding whether an effect is genuine or merely accidental or random. So, in short, opportunities galore for actuaries!
Filter or search events
Events calendar
Louise Pryor, IFoA President, will chair this free-to-view session, in which Alex Darsley, TPR, Actuarial Regulatory Policy, will be discussing the regulator's Climate Change Guidance Consultation, which is seeking views on new guidance designed to help trustees meet tougher standards of governance in relation to climate change ri

This session will examine the megatrends and themes driving the Future of Work across the Financial Services industry, and how Covid-19 has accelerated new future work priorities with a particular focus on hybrid work and leadership mindset and capabilities.

Internal audit is often the Cinderella of the audit world. It's a regulatory requirement for insurance companies to have an internal audit function, so why not make it as useful as possible?  This session will look at how to link an internal audit plan to the risk register, and how that helps audit committees and boards to spot problems and fix them.

Climate change is one of the greatest risks facing our world today. Addressing it will require multi-faceted solutions. Through this panel session, we will explore the different levers that can be used to meet net-zero targets including climate science and data, government engagement, and mobilising green finance.