Patrick Lee has served both on the IFoA Council and IFoA Management Board, and is President of the Wessex Actuarial Society. Opinions expressed here are his own.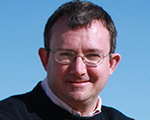 You've said that you believe there is much to do to ensure that IFoA members remain relevant in a world ever more dominated by data analytics and Artificial Intelligence (AI). Could you briefly explain why actuaries would do well to increase their understanding of these technologies?
Estimates vary, but in 2018 around a trillion megabytes of data was produced every day.  Some of this data will be very valuable, and so businesses and organisations will compete to extract value from it. The actuary's traditional toolkit, however, has not enabled understanding of how large-volume data of very different types (such as social media) can be processed for actuarial purposes. So at a bare minimum, actuaries need to know the key concepts of data science.
Actuaries also must understand – and add value in – the ongoing conversations that business leaders will have with data engineers and data scientists.
You recently completed Microsoft Professional Programs for Data Science and for Big Data. What impact on their professional schedule can actuaries who are interested in these certifications expect them to have on their professional schedules?
Well, it took me 468 hours of part-time study over two years to complete both programs. The Big Data course took less time – 146 hours as compared to 322 for Data Science – because some courses were shorter, and I'd already taken three out of 10 courses on the Data Science program. I expect to complete the AI programme in July 2019 after about 150 hours study (I'd already taken 2 out of 10 courses on the other programmes).
So, that is an average of just over five hours study per week: a lot more than the IFoA's minimum CPD requirements, but probably less than most actuarial students are used to! My experience is with the Microsoft courses, but alternatives are available. Some providers offer shorter courses which may be less comprehensive. There are also very different courses – e.g., on Google's technology, including its TensorFlow open source software library which is highly regarded.
Do actuaries typically face any particular challenges with regard to gaining certifications in data science, in your view?
Actually, I think actuaries should have somewhat of a head start because they will already be familiar with material in the early courses on mathematics and statistics. Most actuaries should find studying via MOOCs refreshing, compared to their previous studies for actuarial exams. The exams are open book and so are not a memory test.  They should note, though, that some exams are timed, and there is, of course, an honour code. If you have taken comprehensive notes and completed the exercises during the courses, then there should be no problem.
What opportunities for career progression do you see for actuaries who add a knowledge of data science to their professional competencies?
It's very hard to predict future opportunities. Google and parent company Alphabet claim that the impact on society from AI will be even greater than previous waves of transformation – including the internet. I'm convinced that to prosper, actuaries need to embrace the new technologies. They will be able to add most value by synthesising: combining a good understanding of big data with their financial and business insights, and their communication skills to help multidisciplinary teams get maximum value from data.
As I said earlier, being able to talk credibly about Big Data with business leaders will become an essential skill to command influence at board level. Also, greater opportunities will arise for actuaries to work alongside data scientists and data engineers, as organisations set up data analytics departments to enhance competitive advantage. 
Your career experience includes the areas of pensions and investment practice. Are there specific areas of actuarial practice where data science will find greater application?
To prosper, businesses – and that includes industrial ones – will need to add significant software and analytics capabilities. The avalanche of data that will need to be analysed offers unprecedented opportunities for actuaries to move into wider range of fields. According to AI expert Bernard Marr, there are three key AI use-cases for businesses: first, change the way they understand and interact with customers; second, offer more intelligent products and services; and third, improve and automate business processes.
These use-cases require the efficient collection and analysis of data, along with problem solving, cost benefit analysis and deciding whether an effect is genuine or merely accidental or random. So, in short, opportunities galore for actuaries!
Filter or search events
Events calendar
13 October 2021

-

8 December 2021

This practical course is aimed at actuaries at any stage of their career who want to develop their own growth mindset and apply it to their work setting and personal or professional lifelong learning. The content of the course builds on the lecture given by Dr Helen Wright on Growth Mindset as part of the President's 2021 Lecture series, and will be delivered over a period of 2 months, from mid-October to early December.

The role of actuaries within the health sector varies considerably from one country to another, due to differences in the local evolution of health systems and the funding models for health services. 

This paper outlines key frameworks for reserving validation and techniques employed. Many companies lack an embedded reserve validation framework and validation is viewed as piecemeal and unstructured.  The paper outlines a case study demonstrating how successful machine learning techniques will become and then goes on to discuss implications.  The paper explores common validation approaches and their role in enhancing governance and confidence.

Content will be aimed at all actuaries looking to understand the issues surrounding mental health in insurance and in particular those looking to ensure products and processes widen access for, and are most useful to, those experiencing periods of poor mental health.
 

The IFoA Policy Briefing 'Can we help consumers avoid running out of money in retirement' examined the benefits of blending a lifetime annuity with income drawdown. Panellists, including providers and advisers, will look at the market practicalities of taking the actuarial theory through into the core advice propositions used by IFAs and Fund Managers. They will share a number of practical issues such as investment consequences before and after retirement and the level of annuity that is appropriate and answer questions from the audience.

Lincoln's Inn The Treasury Office, London WC2A 3TL

The IFoA is pleased to be hosting the Governor of the Bank of England, Andrew Bailey, to deliver a speech on delivering policyholder protection in insurance regulation.

The speech will be presented to an in-person audience, and simultaneously live-streamed, at 14.00 on Wednesday 1st December.

This webinar looks at the many types of biases, both conscious and unconscious and the impacts they can have in the workplace.  Raising our own awareness and understanding of the issues can help us avoid the pitfalls of unconscious bias in particular.  We've all heard the phrase 'office banter' but are we sure that's how those on the receiving end perceive it and is it ok to go along with it?

Actuaries need to take action now - but how?  With a focus on climate change, this session will provide informed insight to enable you to improve your knowledge and understanding of the issues involved, demonstrate how it will impact advice to your clients, and highlight prospective opportunities for actuaries within pensions and wider fields.

Pension scams have become more prevalent as a result of the pandemic, and Trustees have increased responsibilities to protect members, which means that actuaries need to be in a position to provide advice in this area. Our specialist panel will include a professional trustee, an IFA and head administrator, two of whom are members of PASA.

The covid-19 pandemic creates a challenge for actuaries analysing experience data that includes mortality shocks.  To address this we present a methodology for modelling portfolio mortality data that offers local flexibility in the time dimension.  The approach permits the identification of seasonal variation, mortality shocks and late-reported deaths.  The methodology also allows actuaries to measure portfolio-specific mortality improvements.  Results are given for a mature annuity portfolio in the UK

In this webinar, the authors of the 2021 Brian Hey prize winning paper present a new deep learning model called the LocalGLMnet. While deep learning models lead to very competitive regression models, often outperforming classical statistical models such as generalized linear models, the disadvantage is that deep learning solutions are difficult to interpret and explain, and variable selection is not easily possible.

The dominant underwriting approach is a mix between rule-based engines and traditional underwriting. Applications are first assessed by automated rule-based engines which typically are capable of processing only simple applications. The remaining applications are reviewed by underwriters or referred to the reinsurers. This research aims to construct predictive machine learning models for complicated applications that cannot be processed by rule-based engines.

With the Pension Schemes Act 2021 requiring a long term strategy from Trustees and sponsors, choosing a pensions endgame strategy has become even more critical. However, it is important that the endgame options available are adequately assessed before choosing one. With an ever-increasing array of creative and innovative options available, this decision may not be straightforward.